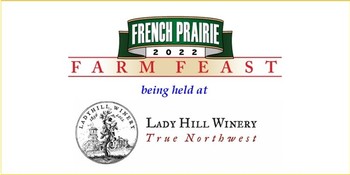 Farm Feast 2022
The French Prairie Farm Feast, the annual event celebrating agriculture, farmers and
food products grown in French Prairie is back! After a hiatus caused by the pandemic,
we are re-starting this event to be held on Sunday, August 21.

The changes wrought by the pandemic and the supply chain and inflation problems
plaguing us this year have forced us to change to model somewhat. The event is now
being held in partnership with Lady Hill Winery, located on one of the oldest farms in
French Prairie founded in 1856!

Instead of a separate appetizer hour followed by a sit-down dinner, the food service will
be in two parts: Appetizers & Canapés by Bon Appetit Catering accompanied by
Sternwheeler Hazy Pale Ale and Lady Hill's True Northwest wine offerings, followed by
heavier appetizer platters and smoked Tri-Tip carved to order, prepared by the Historic
Butteville Store.

The Feast itself will be followed by our annual Raffle and Auction, always a fun event
and a fundraiser for Friends of French Prairie.