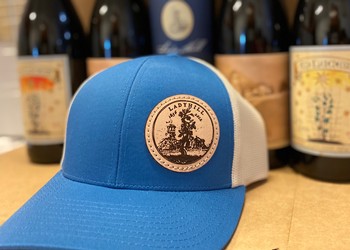 Lady Hill U21 Baseball Cap Blue
Our first addition to our Under 21 brand. A Lady Hill Baseball Cap for Minors - just like the adults but with the word "Winery" omitted.
Custom leather Lady Hill patch Baseball cap made in Southern Oregon by Driftwood Leather company, owned by Andrew and Jayme Robinson. Their business has a story, not unlike Lady Hill.
After six years and two deployments in the Air Force, continuing education, countless moves, and various careers, things began to fall into place for us to work on our dream. After watching one leather craft video, Drew was hooked on the idea of working with his hands and romanticized by the richness of leather. Driftwood Leather Co. was born out of a passion for creating goods built to last with clean and classic design ideas.